FREQUENTLY ASKED QUESTIONS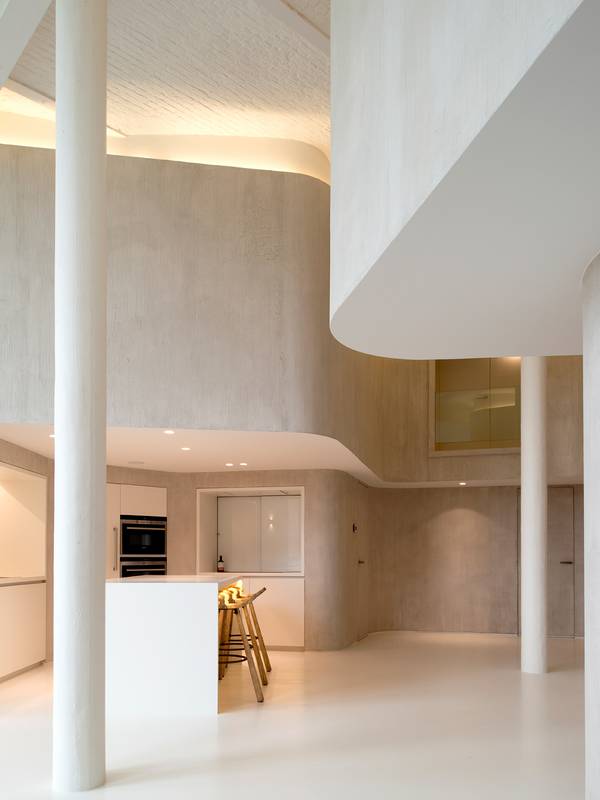 Frequently Asked Questions
GENERAL
What is a cast floor?
Cast floor is a general collective name for cast or liquid floors with a limited construction height. When we talk about a cast floor, we usually mean a polyurethane floor or PU floor, or an epoxy floor. Not infrequently, this refers to polished concrete or poly concrete.
Cast floors usually have no joints such as tile floors, with the exception of the settlement joints in the subfloor that must be repeated in the floor finish. Yet there is also a completely seamless cast floor: the Liquid Mellow from Liquidfloors.

This highly elastic cast floor allows it to be placed over settlement joints provided that they remain within normal tolerances.
Cast floors exist in a smooth and flat structure, but also with delicate nuances. From a sleek to a cloudy effect: The look of a cast floor depends on your personal choice.

People often refer to a cast floor by calling it a "Liquidfloor". However, not every cast floor is a Liquidfloor. Liquidfloors has developed its own unique systems over the years that are protected in word and logo. Although alternatives are claimed in the market, only Liquidfloors has the intended "Liquidfloor" in house. This often refers to the Liquid Mellow, our award-winning PU cast floor.
Why choose a cast floor?
A cast floor is easy to maintain and practical. In the first place, however, a cast floor is chosen for its unique appearance. After all, these floors provide a spatial effect. Architects, interior architects and other designers thus have ample freedom in their design. Everything fits on a seamless floor. From sloping lines to round arches: everything is possible! There is no disturbing interplay of lines through joints and grids on the floor surface.
Walk-in showers and bath enclosures can also be completely finished in cast floor. This can provide a very pure and surprising effect. A cast floor can also be extended over stairs for a seamless connection between levels.
What are the different cast floors? What is the difference between polyurethane and epoxy?
Liquidfloors offers a very special, modified PU cast floor with the Liquid Mellow. In addition, we have connecting garage floors, Liquid Endur for a seamless effect.
Epoxy floors and polyurethane or PU floors all have their origin in industrial applications. Yet these floor systems are miles away from here today.
An epoxy floor is often stiffer than a PU cast floor. A PU cast floor is usually more flexible than an epoxy floor.
Can cast floors turn yellow with age?
All Liquidfloors floors are UV resistant. Yellowing of cast floors, however, exists, and is also common. Ultraviolet rays or direct sunlight expose the quality of a cast floor over time. Some cast floors may yellow. However, this is mainly due to the use of insufficiently refined products. When industrial products are used for interior applications, things quickly go wrong. After all, these products are made for purely functional applications such as preventing oil, acids or fats from penetrating the substrate. Although today our flooring products still possess most of these powerful properties, they are still in very little comparable to their ancestors.
There are still many yellowing cast floors in the world of interior applications. This is mainly due to the cost of high-quality synthetic resins. UV-resistant cast floors or synthetic resin floors are at the top of the price range. A refined placement also takes time. A qualitative cast floor can never be cheap.
Liquidfloors works with the highest quality synthetic resins in the market. Our products have proven to be non-yellowing and UV resistant for more than ten years.
Why choose Socrete?
Do you think a cast floor is sleek? Not necessary. Liquidfloors introduced a revolutionary new floor in 2019 called Socrete. The Socrete brings cloud-like nuances and a lived-in natural effect. From light to pronounced texture. If you want an authentic look, then with Socrete you choose unseen quality.
How sustainable is a cast floor? How environmentally friendly is a cast floor?
All our floor products are manufactured under the strictest European regulations, which we think is fine. Liquidfloors has a Green Leaf Flooring Charter: our own commitment to sustainability and people and environmentally friendly products. Environmentally friendly floors do not only rely on production. If you are looking for a durable floor, a cast floor can be an excellent choice. Compared to alternative floors, we have a fairly simple production process with fewer different steps. This benefits our ecological footprint. Whether you are looking for cradle to cradle, low VOC or low emissions: with our cast floors you choose a balanced product.
The most important aspect, however, is the lifecycle of our products. Liquidfloors makes renewable floors. If you want to renew your cast floor, there is no need for an expensive and environmentally damaging breakout. We can renew all our floors by simply placing a new layer on top. You can even change color if you wish.
In which colors are both floor systems available?
Liquidfloors has extensive own color collections, composed with (international) top specialists in colors and textures. On request we can make specific colors for you.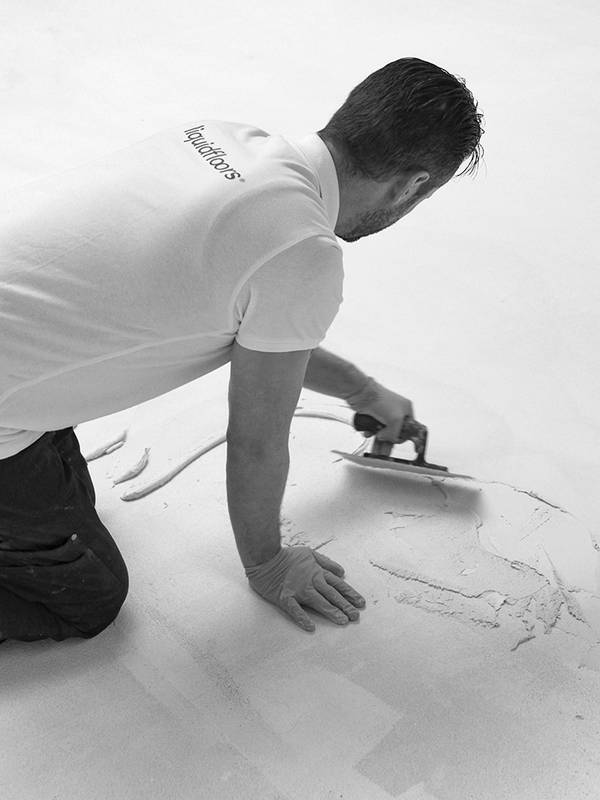 PLACING THE FLOOR
How are the Liquid Mellow and Liquid Endur cast floors installed?
The Liquid Mellow is a modified PU cast floor, a special product for which Liquidfloors received the Innovation Award from the IWT in 2015. After correct preparation of the substrate, the Mellow self-leveling floor is applied in several layers.
The Liquid Endur, our cast floor for areas where the floor has to endure more, is also applied in the same way.
How is Socrete placed?
The Socrete is a mineral resin floor. It is a plaster floor, which is also installed like a plaster. Socrete is therefore not cast. After the correct substrate preparation, primer, Sopaste and Socrete are applied to the floor. We finish with 2-3 top coats. This process is also referred to as "topcoating."
How long does the installation take?
The installation time of our floor systems varies from a few days to two weeks, depending on the floor system, project size and complexity.
How thick are the floors?
The Liquid Mellow has a thickness of 3 mm. This is comparable to other PU cast floors. However, that is not the most important thing. The thickness of the floor is especially important for leveling. In the case of the Mellow, the thickness of the cast floor also provides cushioning and walking comfort. But the resistance of the top layer or "running layer" really determines the durability of the cast floor. This Mellow top layer is of a very special quality.
When can you start using the floor?
We ask for a rest period of 48 hours after finishing. Afterwards, the floor can be walked on. Cleaning with plain water is already possible after a week. Cleaning products can also be used after two weeks.
Are there specific requirements for the subfloor?
The quality of the subfloor determines the quality of the cast floor. It is not the case that a cast floor will level out an uneven surface or strengthen a weak surface. That is why it is important to pay sufficient attention to the soundness of an underlay such as screed, dry floor or leveling compound. Liquidfloors can guarantee a complete floor package from insulation to finishing. This usually ranges from 5 to 8 different layers in total. This way you are assured of 1 project organization within 1 responsible party, and the correct installation!
Can the floor be placed over an existing floor?
Yes, although we would like to come on site to check the quality of the existing floor. If it is flat, sleek and stable, we can in principle place the Liquid Mellow, Liquid Endur or Socrete over it without any problem. During installation we take extra precautions if necessary, such as placing a vapor or moisture barrier.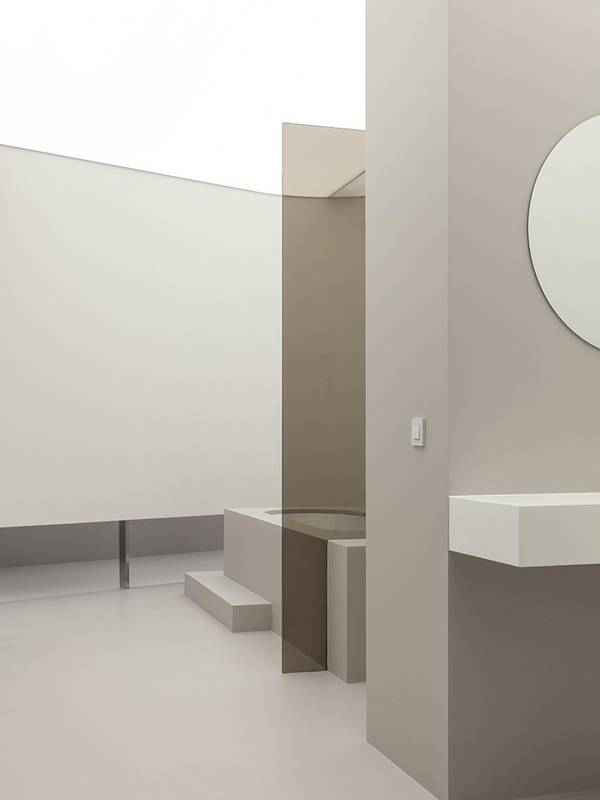 SHOWERS, STAIRS AND FURNITURE
SHOWERS, STAIRS AND FURNITURE
Can the Liquid Mellow also be applied in showers, on stairs, on walls, on furniture?
Absolutely. As for bathrooms, we launched a unique concept: Liquid Bathrooms! Liquid Bathrooms is not just any bathroom finish in cast floor. We use our knowledge and technology to create completely seamless bathrooms and walk-in showers. The sleek design gives the bathrooms a pure and serene look. But besides beautiful, a bathroom or wet room must above all be perfectly waterproof! In walk-in showers, we therefore have the walls smoothly connected to the bathroom floor. A tightly integrated bath in the same system ensures that the bathroom shows a perfect unity in design. Liquid Bathrooms makes bathrooms durable, non-slip, extremely durable and completely waterproof. With a seamless shower without cement and silicone joints, typical molds, scale or soap residues are avoided. The shower always remains clean and hygienic.
We can also extend the floor over stairs, for a seamless connection between different levels. Using the same method, we can also cover furniture in Liquid Mellow.
Can Socrete be used in showers, on stairs, on walls, on furniture?
Here too, the answer is a resounding yes. In this way you can harmoniously combine textures and structures throughout your interior.
MAINTENANCE
How do you maintain a cast floor?
Maintaining a cast floor is very easy, partly due to the sleek and seamless nature of the floor. Periodic dust wiping (or "swiffing"), vacuuming and mopping with a damp cloth and / or microfibre cloth is already sufficient. But our floors thrive best with a specific cleaning that cleans, protects and cares for. We developed an adapted and simple cleaning program for this, for which you can simply order the products via our webshop.
How scratch resistant is the Liquid Mellow? And how stain resistant?
Due to its elasticity, the Liquid Mellow is scratch resistant, although no floor finish is 100 percent scratch-free. Stains can in most cases be easily removed with water. Stains can be treated with our Spot On spray.
How scratch resistant is Socrete? And how stain resistant?
Socrete is exceptionally scratch and stain resistant. The floor is also dirt-repellent and waterproof. As with other flooring materials, we recommend sensible use and minimal protection for cast floors. For example, coasters under the legs of chairs and tables are a small effort, but always wise.
How do you maintain showers, walls and stairs in Liquid Mellow and Socrete?
Showers, walls and stairs can be cleaned in the same easy way as your cast floor. Dusting and possibly wiping with a damp cloth is often sufficient. For extra convenience, you can always use our special maintenance products.
What is the lifespan of Liquid Mellow and Socrete?
When we assume normal use of the floor, with normal load in a domestic environment, you can enjoy your Liquidfloor for a very long time. Especially if you regularly clean with correct maintenance products.
Can the floor be renovated over time?
A cast floor can be renovated at any time. In most cases it is sufficient to apply a new top coat. This hardly raises the floor: less than a millimeter. Yet it is brand new and ready for the future. Feel free to contact us for more information.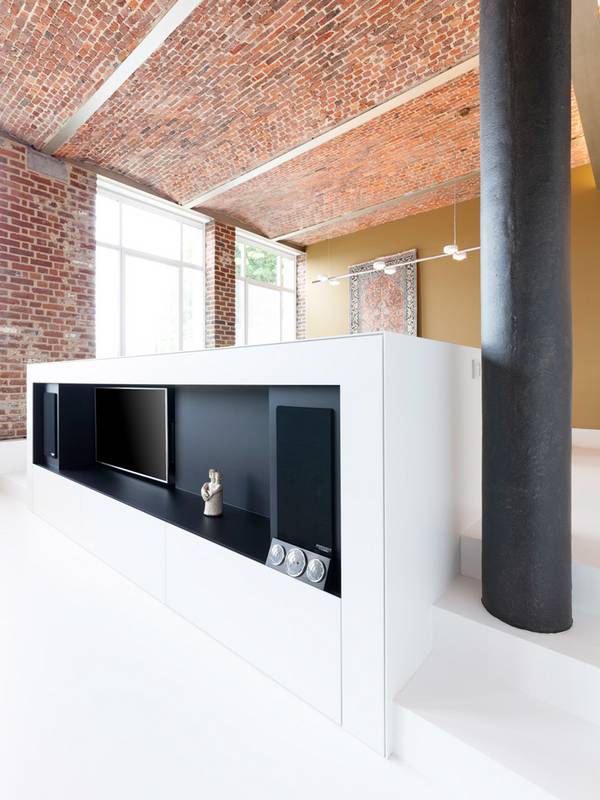 BENEFITS
Is underfloor heating possible?
A cast floor is particularly suitable in combination with underfloor heating. Especially in the case of the Liquid Mellow: heat conduction and skin contact are strong advantages of this cast floor. This results in a faster heat-up time, good heat output and therefore lower energy costs. Namely, little heat is lost. The Socrete is also ideal for underfloor heating.
Is a cast floor child-friendly?
The Liquid Mellow feels warm and soft, so that children can play to their heart's content. Do they spill with fruit juice or milk? Then the floor is easy to clean.
Is a cast floor pet-friendly?
The possibility exists that over-enthusiastic pets will leave scratches with their nails, but in reality they are very rare. Many customers have pets, and that works fine. Our cast floors are therefore perfectly combinable with four-legged friends.
Is a cast floor suitable for allergies?
A cast floor is hygienic and easy to maintain. For many reasons, a cast floor is often chosen for these reasons. Poured floors are therefore ideal for allergy sufferers.